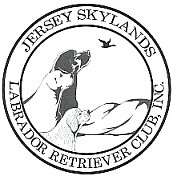 Canine Learning Experience
January 24, 2004
In conjunction with the Lehigh Valley KC

The competition was tough, but we were up to the task.
We Won 2nd Place - Way To Go!!

Live Labs were represented in all 3 colors
Members were wearing their JSLRC Shirts

Pictures represented what Labs do best.
Lab reference books and handouts were available

Colorful and eye catching displays made the booth warm and welcoming.
There was even a Lab rug on the floor.

Experienced breeders shared their knowledge.
The Labs shared their love and friendly natures.

Videos showed Labs in action.
Even the dog was watching!

THANK YOU ALL!
Event Chair: Sherri Mattheis
Members: Gene Czerwinski, Maryann Czerwinski, Donna Forte, Donna Sevchuk
Assistants: Stephanie Forte and Tyler Mattheis
---
©1998, Skylands Labrador Retriever Club, Inc., All Rights Reserved.
Originally created: 1998; Last modified:January 26, 2004