JSLRC SPECIALTY

FRIDAY
SEPTEMBER
2, 200
5
at Newton Kennel Club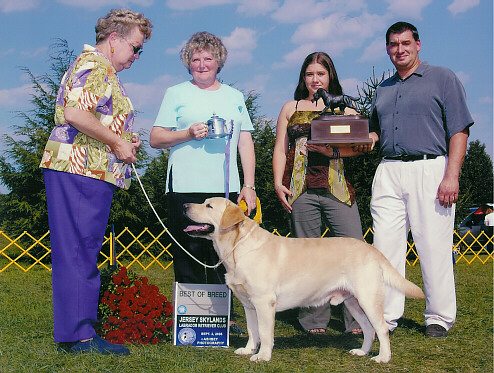 BEST OF BREED
CH. LUBBERLINE MARTINGALE
By Ch Hunt Club Clayview Funny Bear - Ch Hennings Mill Lubberline Jib
Owner: Pauline & Maurice Mortier. Breeder: Pauline A & Maurice Mortier.
I have previously given this dog `Reserve Winners dog` and today I still thought him an excellent Labrador.
A strong well-balanced body, with good bone, good neck and shoulders flowing into a level topline,
masculine head with lovely expression and good length of muzzle. Movement true and a very good showdog.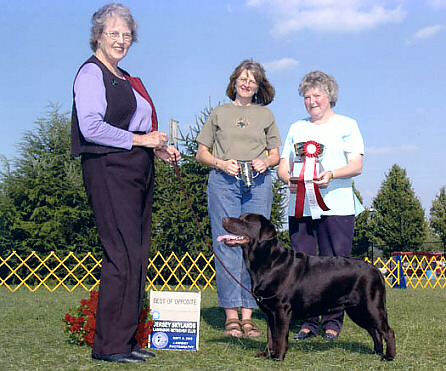 BEST OF OPPOSITE SEX
CH. WEYMOUTH'S TEMPLE TREASURE
By Ch Naiken Indian Temple, MH - Ridgeway's Moonlit Harbor, CD
Owner: Susan & Michael Lazarchick. Breeder: Susan Lazarchick & Lisa Riggio.
Lovely balanced chocolate bitch, with sweet head and expression, good neck and shoulders,
very good coat and eye colour. Just loved the kind way she looked at you, a very good quality Labrador.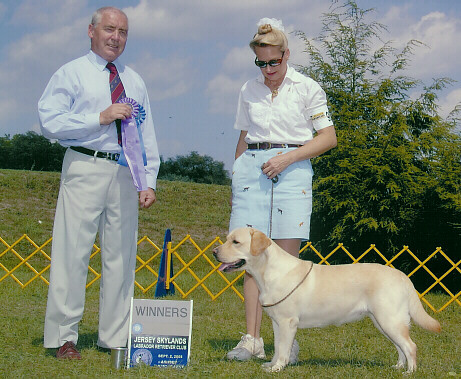 WINNERS BITCH AND BEST OF WINNERS
MISTY GLEN'S DYNAMITE DIVA
Ch Misty Glen's Wallace Wascal - Warringah's Bundeena
Breeders/Owners: Joan N Urban & Frank Urban
Young bitch of quality. Good conformation and excellent bone. Head so sweet and feminine with good length of muzzle.
Pigmentation excellent. Good reach of neck and well-laid shoulders, strong hard quarters, showed superbly and well handled.
Moved soundly and stylishly. Used her tail to advantage.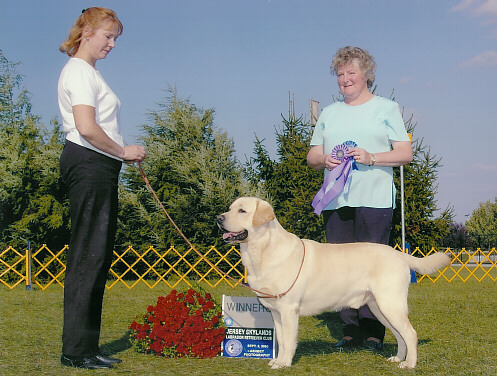 WINNERS DOG
ALLEGHENY'S MICA AT SNOWGOOSE
By Ch Dickendall Davaron Gable - Ch Allengheny's Timpani JH.
Owner: Dr Terry Purkable & Andrew Lund., Breeder: Clare Senfield
a lovely quality dog with good head, eye colour and kind expression. Well made body with good neck, topline,
and quarters which he used extremely well on the move. His reach and soundness was a joy to see.
I had great pleasure in awarding him Winners Dog.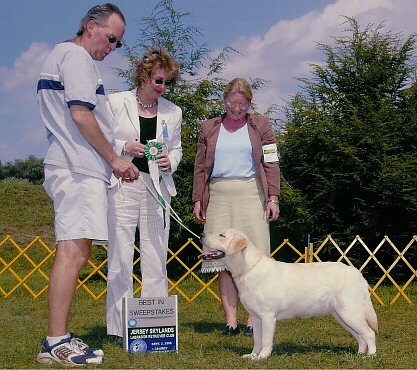 BEST IN SWEEPSTAKES
NYCOMA WAY TANZY SIMPLY BELLA
By Ch Boradors By George - Nycoma Way's Brown Eyed Girl.
Owner: Marie & John Baccarie & Heather Johnson-Lamarche., Breeder: M Baccarie & J Baccarie & H Johnson-Lamarche.
What a lovely yellow girl. Although she is a young puppy, she is so well put together and balanced that she just stood out.
She has a lovely profile with great reach of neck, strong topline with wonderful tail set, correct front, and strong rear.
Her head is so pleasing with a soft expression emphasized by black pigment.
She was in excellent coat in spite of the time of year. Lovely thick otter tail.
She was a happy mover and held together in spite of her young age. She shows great promise for the future.
It was a pleasure to award her Best in Sweeps.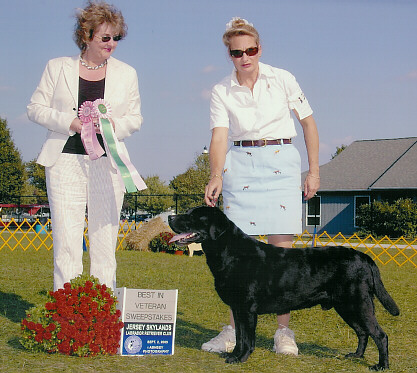 BEST IN VETERAN SWEEPSTAKES
CH ROCKYCREEK'S SWEET BASIL
By Ch Blackdux Knight Moves JH - Rocky Creek's Country Classic.
Owner: Geraldine Mines & Kathryn A Mines. Breeder: Kathryn & Geraldine Mines.
Nicely balanced black with lovely correct front and great shoulders. Shown with good harsh coat.
Moved correctly with good reach and drive. Held a level topline on the move.
He was in great condition. Pleased to offer him Best Veteran in Sweeps.
---