JSLRC SPECIALTY

FRIDAY
SEPTEMBER
2, 200
5
at Newton Kennel Club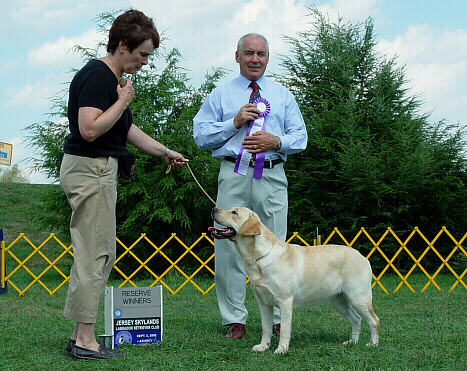 RESERVE WINNERS BITCH
BROADWAY'S BROOKLYN
Ch Borador's By George - Broadway's Red Hot & Blue
Breeder/Owner: Maryann Czerwinski
Yellow winner excels in all the desired qualities and she has such a feminine head and expression,
and shows well. She moved soundly. Pleased to award her Reserve Winner's Bitch.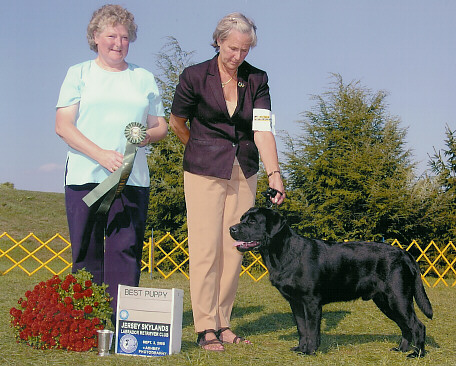 BEST PUPPY
CAMELOT'S JELLY BEAN BANDIT
By Wiscoys Robin - Ch Camelot's Snowndhill Jellyroll JH
Owner: Camilla Adams. Breeder: Camilla Adams.
Smashing black who has everything going for him. Just right for age, well-balanced body, well shaped head with lovely expression and length of muzzle. Strong legs and feet with good coat, moved and showed well.
I am sure he has a very good future – just oozes quality.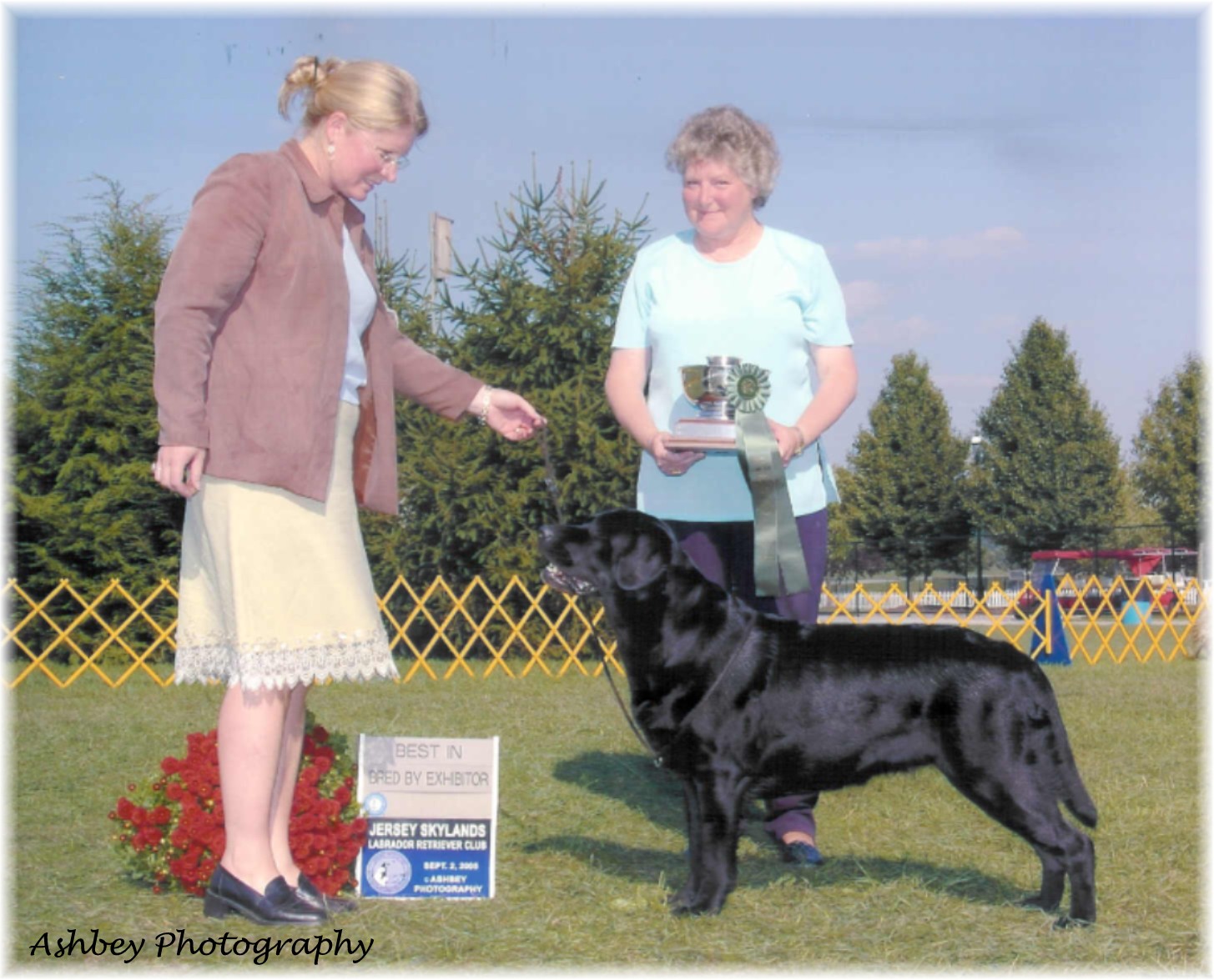 BEST BRED BY EXHIBITOR
NYCOMA WAY SWEET PEA JH CD
By Ch Raintree Slippery When Wet JH - Ch Pembroke's Sweet Alyssum JH CD.
Owner: Heather Johnson-Lamarche & Marc Lamarche. Breeder: Heather Johnson-Lamarche & Marc Lamarche.
This well-built black has a lovely feminine expression with correct eye colour and shape.
She excels in reach of neck and has well-sprung ribs, strong quarters,
with excellent turn of stifles, and her coat is top class.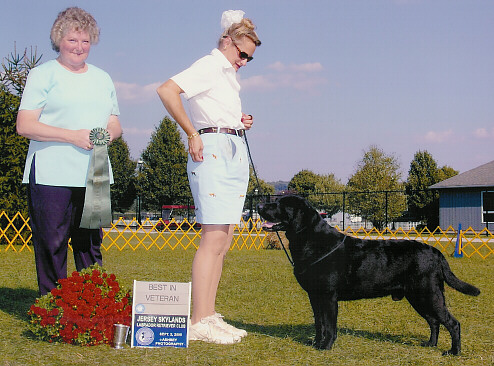 BEST VETERAN
CH ROCKYCREEK'S SWEET BASIL
By Ch Blackdux Knight Moves JH - Rocky Creek's Country Classic.
Owner: Geraldine Mines & Kathryn A Mines. Breeder: Kathryn & Geraldine Mines.
Quality black with lovely head and expression, nice neck & shoulders presenting a good outline.
Excellent mover and dog of true Labrador type.


BEST OF OPPOSITE SEX IN SWEEPSTAKES
NYCOMA WAY WHISKEY FOR MY MAN
By Ranbourne This Bud's For You - Ch Pembroke's Sweet Alyssum JH CD
Owner: Heather Johnson-Lamarche & Marc Lamarche., Breeder: Heather Johnson-Lamarche & Marc Lamarche.
This yellow really stood out from the moment that he walked in the ring. He has a great topline that flows smoothly
from the neck to the tail, lovely reach of neck, gorgeous head, good coat and great bone. Nicely wrapped otter tail.
This youngster is put together so well so it wasn't surprising to see that he moved well and covered a lot of ground.
I suspect that he will do well in the future. He went on to be Best of Opposite Sex in Sweeps.
It was interesting to see later that he was from the same kennel as my Best in Sweeps. Nice going!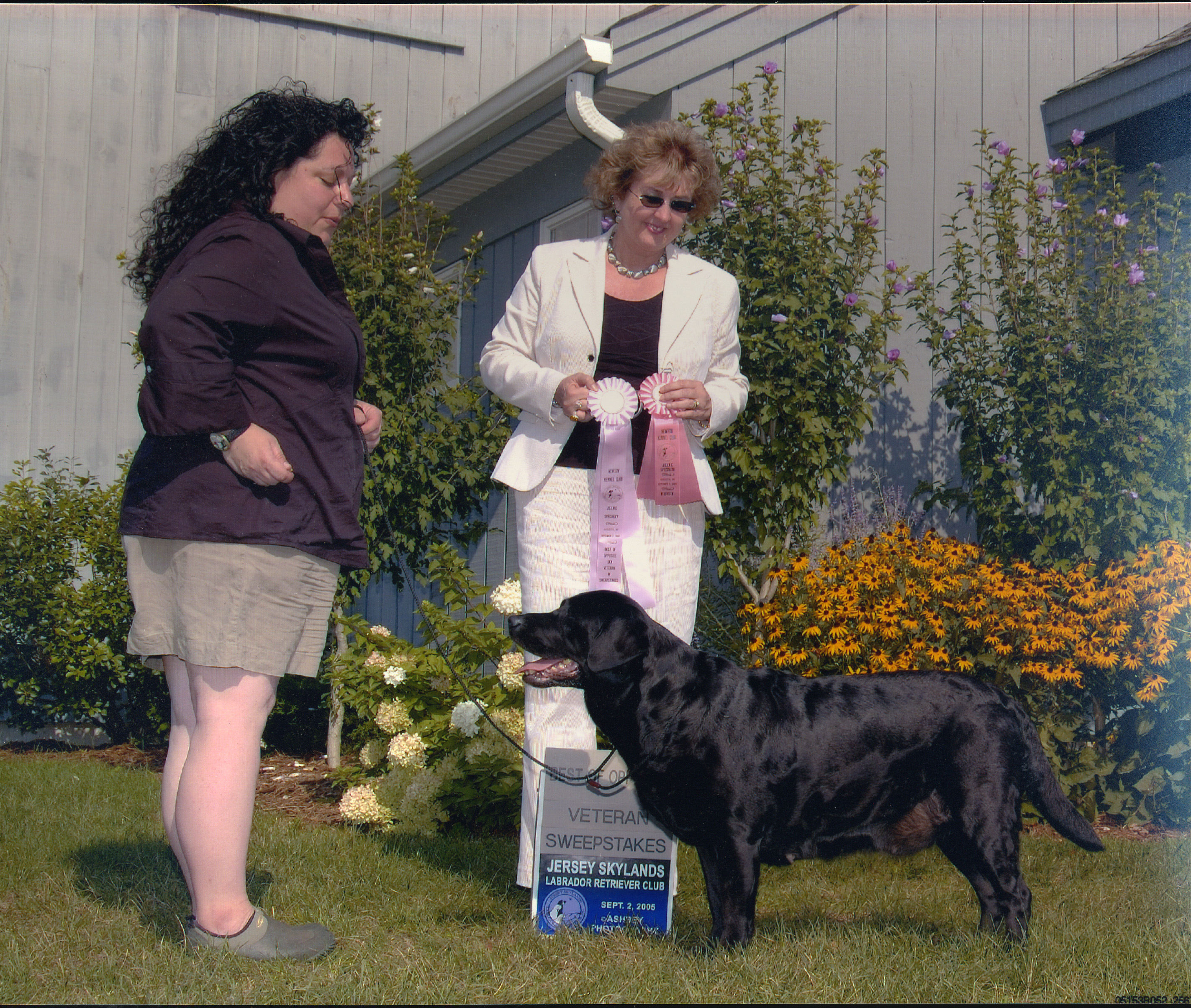 BEST OF OPPOSITE SEX IN VETERAN SWEEPSTAKES
LOBUFF'S LILLO OF TIMBERLANDS
By Ch Lobuff's Bare Necessities CD JH - Lobuff's Aja At Riverside.
Owner: Gregory Goebel. Breeder: Gloria Ennis & Lisa Weiss.
Lovely black girl with good reach of neck, lovely head, nice topline. Lovely coat with correct otter tail.
Nicely constructed front and rear. Moved true and with animation. Gave her BOS in Veteran Sweeps.
---