Remembering JSLRC Founding Member Gene Czerwinski
<![if !vml]>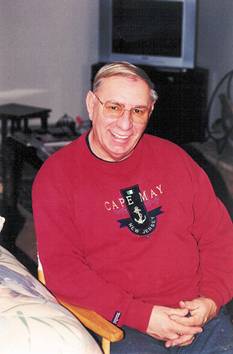 <![endif]>
<![if !vml]>

<![endif]>
1940 - 2004
It is with tremendous sorrow that I inform you of the passing of Gene Czerwinski. Gene and his wife Maryann were down in Texas judging. On Saturday evening, March 20, 2004 they were just being seated at a restaurant with fellow Labrador friends and exhibitors. Gene was in tremendous spirits. They were laughing and having a terrific time. Then he put his head down on the table and was gone, having suffered a massive heart attack. Among his dinner companions was an MD and others trained in CPR. Valiant efforts were made to save him but his attack was sudden and fatal. He passed after a wonderful day doing what he loved and with the woman he loved.
For those of you who didn't know him well, Gene and Maryann purchased their first Labrador in 1976. Gene was a part-time musician for many years and Maryann participated in One Act Play competitions, so that is how they came up with Broadway as a kennel prefix. All of their dogs are named for Broadway shows. The first puppy became Ch. Devonwood's Dolly WC. Six months later a second puppy came along and became Ch. Devonwoods Little Miss B'Dway WC. Both bitches finished their championships before the age of two and received their WC's. Dolly was their foundation for several generations. Among the most noteworthy was their yellow male Sean, Ch. Broadway's Shenandoah WC, who won BOS at LRC of the Potomac in 1985. Also added to the Broadway family were two well known stud dogs. Ch. Martinstide Mass Appeal, a yellow male, was imported from England in 1988 as a puppy and he won Best In Sweepstakes at the 1988 National Specialty, finished his championship and went on to win Best In Specialty Show at MJLRC in both 1990 and 1991. Ch. Belnaboth East of Eden's Rex, a black unfinished adult dog, joined them in 1991 and Gene handled him to a Specialty win and his championship. Over 15 Champions have been owned, bred or co-bred and always owner handled.
Gene was a professional handler for 13 years while still involved in his Labrador breeding program with Maryann. Maryann was the first to step into the judging ring with Gene following a few years later. Gene especially enjoyed judging and he was licensed for Labrador Retrievers, Flat-Coated Retrievers, Rhodesian Ridgebacks and Belgian Sheepdogs, all breeds that he had owned or handled.
Gene was also very heavily involved in the Jersey Skylands LRC. The first general meeting was held in the Czerwinski's living room. Gene served on the board for many years having held the positions of President, Vice President and Director. He also chaired the club's sanctioning committee, acted as point show coordinator, planning chair and match chair among others.
Gene was escorted to the Rainbow Bridge by his yellow males Sean and Peal, and by Bird, a yellow Peal daughter.
Our thoughts and prayers go out to Maryann and their family and friends.
Rest well my friend knowing that you were so very loved and are sorely missed,
Laura Dedering