Olin Jennings, a long time JSLRC Member, passed away.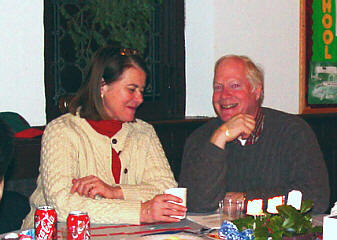 Laura and Olin at the 2008 JSLRC Holiday Party
Olin Jennings, 68, of Columbia, NJ, passed away at home on Thursday, August 2, of cancer.
Personal: As chairman of The Jennings Group, the management consulting company he and his wife, Laura, created in 1989, Olin worked primarily with engineering and environmental service companies. In the last decade, The Jennings Group created an extended leadership development program, through which Olin trained over 3,000 people in business management, leadership, and interpersonal skills. Many of the participants found his unique program transformative and life-changing, strengthening not only their professional lives, but also their marriages, parenting and personal friendships as well. He also co-authored Did You Hear What I Said? A book on growing listening skills. Wherever he went, Olin was known for his jokes and puns, as well as for his sincere caring for those he met. A native of Michigan and a graduate of Lawrence University, Olin held at engineering degree from the Macken School of Mines and an MBA from the University of Michigan. He was a guest lecturer at Marshal School of Business (University of Southern California), Tufts University, and Personal Strengths. Prior to his work through the Jennings Group, Olin's career in strategic management consulting included work for Booz, Allen & Hamilton and Touche Ross (now Deloitte & Touche). Memberships: Olin was an active member of the Evangelical Free Church of Blairstown. Prior to moving to Columbia in 1992, he lived in Chatham Township, NJ, where he was a member of Long Hill Chapel. While in Chatham, he and Laura built up a ministry for divorce recovery through the church.
Survivors: He is survived by his wife of 27 years, Laura; his four children, Elizabeth Rosenheim, of Bethesda, MD, Courtlandt Jennings, of Ashland, Or, Katherine Kaynak, of Hopkinton, NH and Peter Alton, of Los Angeles, CA; and his six grandchildren. Services: Arrangements are under the direction of Newbaker Funeral Home, 200 Route 94, Blairstown, NJ 07825. 908-362-6341.
Memorials: In lieu of flowers, donations are requested for the Jennings Leadership Foundation (jenningsleadershipfoundation.org) or mail to 39 Ramseyburg Road, Columbia, NJ 07832.
Published in The Express Times on August 12, 2012